It was a peaceful day at BlyDonia when the battle had started. Everything was normal. The day previously the Second BlyDonian Annual Ball was held, so most of the guests were still there... The Radiant had left to help The Gammetan Civilization assault a space base. The ship had soon come back, and shortly after The Nolon had attacked.
---
The battle was relatively short. The Nolon had came in with several ships. Mainly "Childships" as The Nolon had called them, which acted as frigates. One "Mothership" was also in the battle. The Radiant, along with the Bly Machine, The Tournan Hive Ship, many Drakonian ships, and Vatrayen ships had engaged the enemy, and soon defeated them.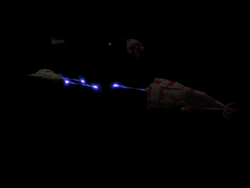 As A Quick Note
Edit
The A-22's fire is like an X-Wing's, or Y-Wing's, only blue, not that strange lightning-like-bulbs-at-the-end thing.