Lohaul Battleship
Official name

Lohaul Battleship Mark I

Designer
Manufacturer

Mechal Production Industries

Operators

 Gammeta

Type

Battleship

Introduction

2009/12/24

Units built

3 (5 under construction)

Units active

3

Length
1.3 km
Width
700 m
Height
255 m
Stargate

0

Bays

4 hangars; 6 cargos

Entrance points

Main: Boarding ramp ejects from the underbelly forward-facing

Escape pods

120% of crew members

Hull
860% refinement Trinium Turbide
Hull density

48

Shield

Artegon Shieldware HD 1x (previously Magnu manufactured)

Sensors

Short range: 253,000 km
Long range: 56 lightyears

Targeting system
Communication

Short range: 142,000 km
Long range: 17,500 lightyears

Computer system
Other systems

EnII Beaming Generator, Ring Transporters, Anti-Anti-Hyperdrive Module 1.4-2.2, Kremin's Anti-Stealth Field IX, Kremin's Anti-Weaponary Field I

Complement
Passengers

1,500

Crew

127:
5 advisors
6 cargo management
1 commander
1 communication
50 damage control
60 gunners
1 hyperdrive maintenance
1 navigational officer
1 sensors officer
1 weapons officer

Propulsion

4 ionised Naquadah Core 0.58

FTL drive
Gammetan Hyperdrive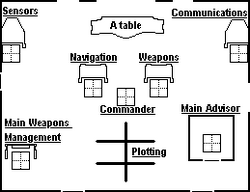 The Lohaul Battleship Mark I was the first battleship made by the Gammetans for battle in the Kortorisan-TEC war. It never served in any battles, but is a strong ship compared to the fleet's counterparts nontheless.
On January 14th 2011, following the second reformation of the Gammetan Military, Variants of the ship were made, most of which improved specific systems
Variables
Edit
Lohaul Meiroka—Armed with 2 superior cannons, thrice as powerful as those on the Devlabordich however suverely lower in number
Lohaul Lantir—Armed with advanced EMP anti-shield missiles.
Lohaul Pefrox—Capable of firing an increadibly heavy and high-velocity missile barrage and increasing the velocity of it's gatalon photon cannons by at least 2 times, making it primarily anti-swarm and anti-fighter.